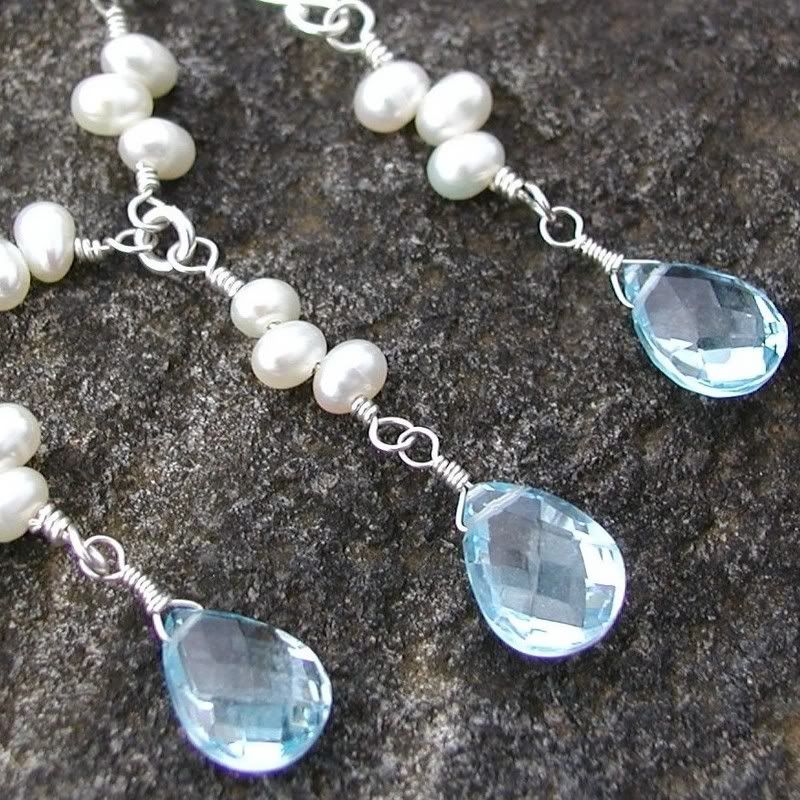 Of all the sales I have had, the sale I made today on Etsy is one of the most meaningful I have had yet. Today a customer bought the
set I use as my avatars
for both
Etsy
and
Flickr
.
I have loved this set since the minute I made it. It's so dainty and feminine, and in my opinion quite elegant and lovely. I made it over a year ago and I have always just loved it. It was my first pearl piece. It was my first briolette wrapped piece. It was my first set. Today I got to say goodbye to it and sent it to live in Texas. I am understandably excited and happy about it moving.
When I made this I had "bridal" in mind. I don't know if it will be for a bride or not, but it doesn't matter. Whatever occasion it is worn for, they will be wearing a little piece of me each time they put it on, and that's how I feel about all the other jewelry I have made and sold. Knowing that always makes me smile, but this one was a little bit special.
I don't know about anyone else out there who sells on Etsy or elsewhere, but when I make a sale I feel so proud yet humbled at the same time. It's a very special feeling knowing that someone likes what you have made. And getting the package ready for when the buyer pulls it out is always fun for me. Whether inside a bubble mailer or a Priority box, I want the customer to feel special when they receive their jewelry. I haven't yet gotten my packaging exactly the way I want it. I have in mind what I want but haven't quite found where to get it. I'm going to be working on that in the near future. When I get what I want I'll post a picture.
So I finally say goodbye to my avatar set. I truly hope my customer wears it in good health and treasures it for a very long time to come. It meant a lot to me while it lived here in North Carolina. I hope it means a lot to them in Texas. Thank you.